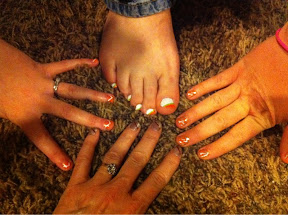 God has brought many good friends into my life. I really tasted their love today as so many of them called or texted to see how I'm doing. A couple of them witnessed an encounter of mine, and just wanted to check in. It was thoughtful and kind. Each one of them is a gift from God. I feel blessed to have friends that check on me, support me, go to church with me, and bring me ice cream. I know God has His hand in all of their loving ways, and it brings me joy.
God has granted me an answer to prayer. I prayed for women to be in my life, wise women, caring women, friends to hang out with. This is what He has given me. Friends to have coffee with, friends to paint toe nails with, friends to cry with.
Because of these constant, loving friends in my life, He has shown me what He is. God is there for me to call upon, He is there to draw me, He goes with me everywhere, and He brings me gifts! God is my companion no matter what, through ALL things, He loves me, accepts me, forgives me, enjoys me! I can trust Him, because I know that He will never leave me. He is a true friend, indeed.
Say That Again, Jesus. You are everything, and You bring good into my life. And, I will Say That Again, "thank you, Jesus!"