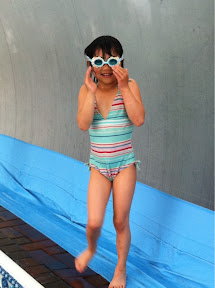 My daughter loves to swim. She has been taking lessons for two years, and she is the best swimmer in our family! She's good. Today is her last lesson.
Every week, I take her to her lesson and watch her swim. Her progress and dedication has been admirable. She has learned that if she jumps in, she comes back up. If she puts forth effort, she floats and moves across the water. If she trusts her coach, she learns and improves.
Just like life, if I take the leap of faith, God gives me wings if an eagle. If I stick to the course of life, my dedication and commitment pay off. If I put my trust in God as my leader and teacher, I will learn and my responses to life will improve.
Say That Again, precious Jesus. Keep me in the water, trusting you, and learning.